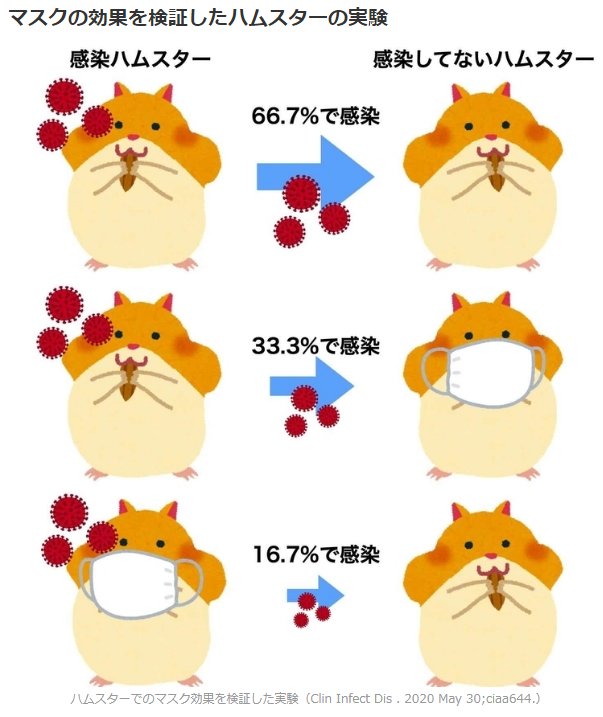 Hello!
It's already September! Why is it so hot! !!
Didn't you think… today? lol
Today's maximum temperature in Tokyo was 35℃…
But… sorry for everyone…
To tell the truth, I had a day off today, so I was relaxing at home because it was hot outside…
It's a "cheat", right? really sorry! Lol
However… it was still hot…
By the way,
it is the content I summarized in yesterday's summary article,
(9/03)本日の感染者数【東京】【新型コロナウイルス】【確定値】
I'd like to make it a separate article so that as many people as possible can see it, so I will recompile it!
The contents is that,
"Taste disorders and olfactory disorders aftereffects of the new coronavirus (COVID-19) may not be cured for years."
---
As many of you may already know, the news about the aftereffects of the "new coronavirus (COVID-19) infection" has increased again recently.
コロナ後遺症「なし」はわずか13% – Yahoo!ニュース
コロナ後遺症の実態 退院後も疲労感や呼吸困難 – 日経Gooday 30+
Originally, news about this "aftereffects" began around July, observing the subsequent course of those who recovered after being infected by a hospital in Italy (you all know that the number of infected people in Italy has increased dramatically). The article published in the American Medical Association magazine was a hot topic!
Let's summarize that information first!
◆Announcements of "Vatican Catholic University Hospital" in Rome◆
Two months after 143 patients who were hospitalized for "new coronavirus (COVID-19) infection" and then recovered and discharged
(* Average age of 56.5 years, about half of 66 people are treated with ventilator etc.)
(* Hospitalization period average 13.5 days)
(About 1 month after discharge)
・55% had 3 or more sequelae.
・44% felt that the quality of life had deteriorated.
[Sequelae]
・53%-Feeling tired
・43%-Breathing is difficult
・27%-Joint pain
・22%-My chest hurts
*Others such as taste disorders and olfactory disorders etc.
In China and France, it is reported that "Many patients with severe pneumonia due to a "new coronavirus (COVID-19) infection" have poor lung function even after recovering from pneumonia, and breathlessness or some symptom remain."
By the way, SARS (Severe Acute Respiratory Syndrome) which became a hot topic in Japan around 2002 is also the same "Coronavirus", but even after half a year from the onset of SARS,  after examining 110 people,
30% of the people still had an abnormality in their lungs after 6 months, and
20% said that their lung function had not yet recovered after two years…
And it is scary that 20% of people were suffering from psychological sequelae such as depression and post-traumatic stress disorder (PTSD) two years later…
Even in the case of this "new coronavirus (COVID-19) infection", there are some people who had their ventilators attached for a long period of time in the intensive care unit and who could not meet with their families for a long time to prevent infection, so there is concern about mental aftereffects.
By the way,
I searched for an article on "Sequelae in Japan"… I couldn't find any detailed information…
回復して終わりではない新型コロナ 後遺症こそが大問題 – Yahoo!ニュース
As this article, there were a few articles about individual people who had "taste/smell disorder". ..
But in Japan, we don't really hear the "real voice" from the former infected person (even entertainers or SNS ) about the aftereffects, right? ?
What is the actual situation?
It would be nice if there were many people who did not become "severe,"
but I'm a little worried…
In any case, after all, "The best thing is not to get infected! "!
I'm sorry I posted a difficult story today. ..
However, if there is a person around you who's carelessly enjoying "I'm okay with COVID-19 ~", please tell that person…!
By the way,
This is an article by Dr. Satoshi Kutsuna, who is a specialist in infectious diseases and is often introduced on my site, but he always makes graphs and diagrams so easy to understand. So, let me introduce a really easy-to-understand "three figures"!
*Hamster experiment to verify mask effect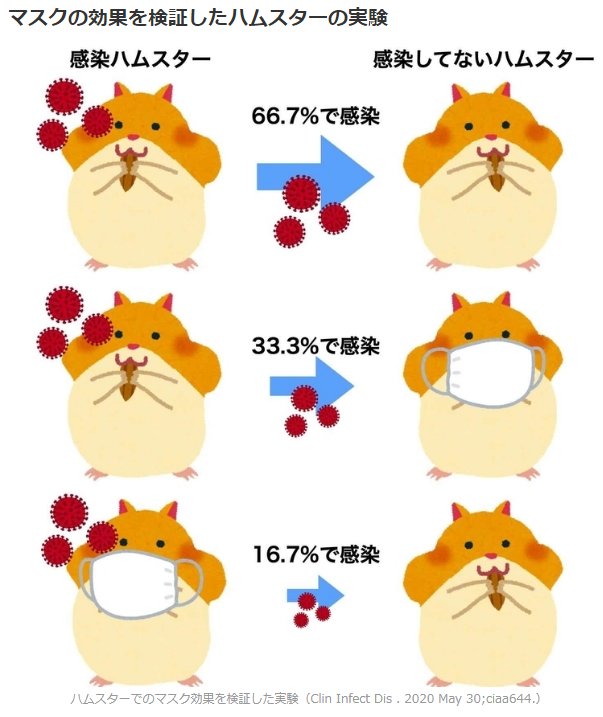 *←infected hamster  /  not infected hamster→
*% = the percentage of infect
You can understand this in the moment when you see it!
(If you don't care about being "cute" lol)
Really easy to understand the article of Dr. Kutsuna! 
And next one is…,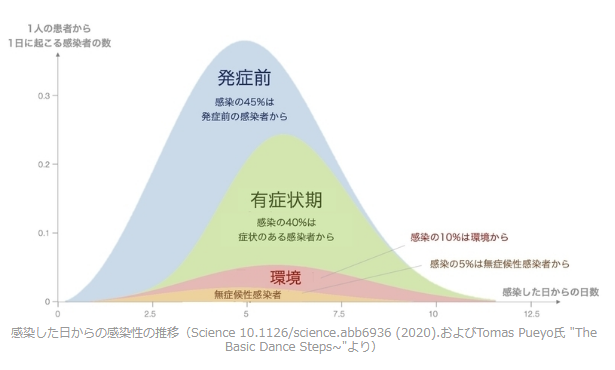 It's a graph of "how much of an infected person likely infect the other people"!
(↑Infectious strength in the upper direction / → number of days after infection in the horizontal direction)
From this graph, you can see that,
・The infectiousness of both pre- and post-symptomatic people becomes maximal within 5 or 6 days after infection.
・Surprisingly, infectiousness is not strong among asymptomatic persons, only 5%.
・Only 10% of people are infected from the environment (such as from the handrail?).
And,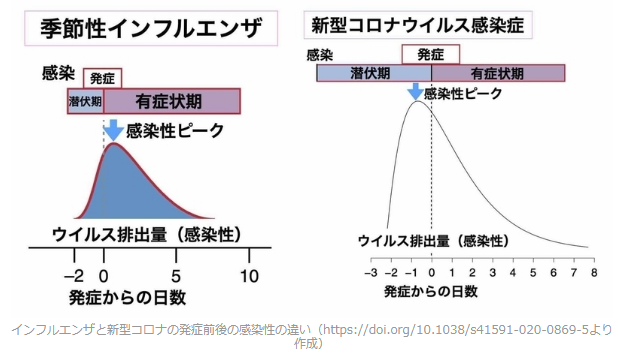 In this way, "new coronavirus (COVID-19)" seems to have the maximum infectivity during the incubation period before the onset…
The conclusion is, "Before onset, infected people don't even know if they are infected or not, so anytime we have to be careful about preventing infection!"
---
That's it for the summary of aftereffects!
Anyway, I want you not to get infected.
In Tokyo, the number of people infected every day is decreasing, but what would the life look like if the new coronavirus infection (COVID-19) really came to solution?
Whether it will be
a illness that we should be careful of when the season comes, even if we are vaccinated once a year, like flu,
or a illness that we will be able to forget such as rubella, after we take it once in your life,
which one will it be?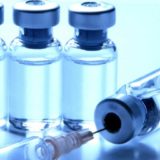 When will the vaccine arrive in Japan?! [COVID-19]
*** This article is written with the help of Google Translate... *** Hello! Thank you for your inter...
This is an article I summarized earlier, but here it seems that a vaccine that "will not be infected by corona in the first place" is being developed, so it would be nice if there will be no ill people and it will eventually be forgotten. !!
Please be very careful when you go out!
AcertainFox512
---
*This is "COVID-19 Trend Calendar in Tokyo" as of Sep 05↓
◆Changes in New Coronavirus Infection in Tokyo◆
Aug

Sun
Mon
Tue
Wed
Thu
Fri
Sat

Total

–
–
–
–
–
–
472

2187

292
258
309
263
360
462
429

2373

331
197
188
222
206
389
385

1918

260
161
207
186
339
258
256
1667
212
95
182
236
250
226
247

1448

148
100
–
–
–
–
–

–

Aug

Sun
Mon
Tue
Wed
Thu
Fri
Sat

Total

–
–
170
141
211
136
–
–
–
–
–
–
–
–
–
–
–
–
–
–
–
–
–
–
–
–
–
–
–
–
–
–
–
–
–
–
–
–
–
–
 *Unit: person (number of infected people on that day)