***  This article is written with the help of Google Translate… ***
38 (+27 from the day before) new infections confirmed in Tokyo.
◆◆◆ Japan ◆◆◆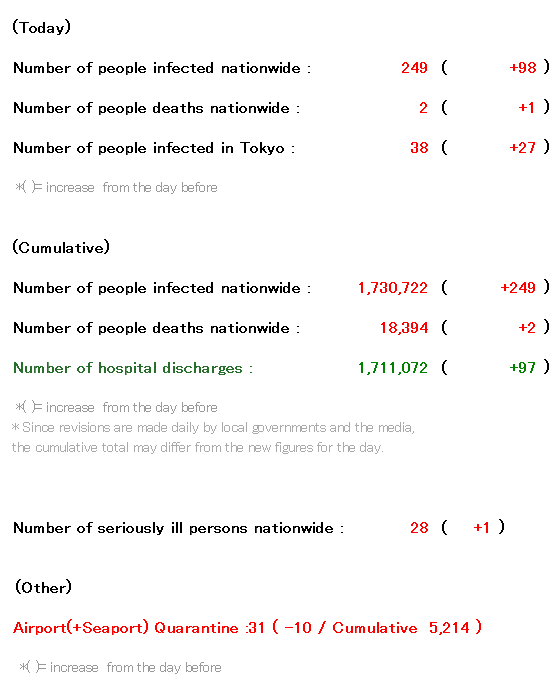 (*All of the above from 2021/12/21 19:00 /  NHK NEWS WEB)
◆◆◆ World ◆◆◆

The number of infected people in Tokyo has increased considerably …
Today, the number has increased considerably nationwide, and it seems that viruses are being imported more and more from overseas, as the government expected to lift the suspension of new reservations for return flights to Japan.
Meanwhile… How about the amount of people in the city in Tokyo…↓
(Around 15:00 on Dec 21, Shibuya Scramble Crossing, Tokyo)
Well, I will summarize
the breakdown of the number of new infections in Tokyo + α …!
And also today, I will summarize some prefectures that have a high number of infected people, not just in the Tokyo area.
Hey…
How much would the Japanese government be satisfied with importing COVID-19 ………………?
↑↑ Isn't it overkill …?
In Japan, governments and critics always say that the excuses that do not regulate behavior are constitutional or human rights, but the human rights of people who are taking proper measures against infectious diseases are not taken into consideration, don't you?
By the way, 14 Omicron infections were announced yesterday night,
 and in Tokyo, infections of Omicron strains of returnees from eastern South Africa have been confirmed, 
and now, there are more than 1000 close contacts of Omicron strain infected people in the whole of Tokyo…!
(1002 people as of December 19th)

Moreover, it seems that only 408 people are in the accommodation for isolation …
---
And it seems that the situation outside Japan is terrible,
and in the United States, professional sports games are being canceled more and more due to the spread of infection again.

NBA = American professional basketball
NFL = American League of Professional Football
NHL = North American Professional Ice Hockey League
etc…
And in the sense of the United States, it seems that a super-large cluster is also occurring at the US military base in Okinawa, that
super-large cluster of 180 people is occurring at Camp Hansen…
---
Globally, the Omicron strain seems to…
↑easily penetrate the defense even for vaccinated people,
 but what will happen to Japan where the vaccination rate up to the second time does not reach 80% at all? …
By all means, it seems that there are quite a lot of people who refuse vaccination other than "high-risk people" …

---
Isn't this person refusing to stop the return flight to Japan by any means?
Keidanren Chairman, who makes us think that way, said in this way.
(= The cause of spreading Omicron strains in Japan)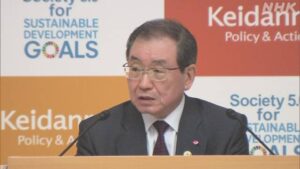 Keidanren Chairman
"The government should hurry to start the third vaccination."
"There is information that the toxicity of Omicron strains is weak, so we should discuss that as well."
"It's also necessary to save time on border measures, but we shouldn't lose momentum where socio-economics are emerging."
"The vaccination certificate app should be greatly utilized for overseas travel, domestic travel, eating and drinking, etc."
Well …
I don't want this person to destroy Japan …

---
---
---
↓ In addition, there was such an article! ↓
---
---
---
And here's a trial calculation of how many people in Japan are actually receiving medical treatment.
(If it is exactly as announced)
For those who are undergoing medical treatment nationwide are…
these days it's been declining significantly on most days, but…
---
By the way, it seems that the "vaccination certificate app" is just a little talked about in Japan …
The registration method looks like this!
Download the app
→ Select whether for overseas or domestic
→ Read my number card
→ Confirm address (select local government)
→ Certificate issuance
↑ Again, it seems that you will need a My Number card that has a penetration rate of only 40% …
(*My number card = ID card for the people of Japan)
By the way! After all in the article! It is used to use discount tickets … (dry laugh)
Please be careful when you go out!
AcertainFox512
◆Changes in New Coronavirus Infection in Tokyo◆
Oct

Sun

Mon

Tue

Wed

Thu

Fri

Sat
Total
–
–
–
–
–
200
196

1582

161
87
144
149
143
138
82

904

60
49
77
72
62
57
66

443

40
29
36
41
36
26
32

240

19
17
29
36
21
24
23

169

22
–
–
–
–
–
–

–

Now

Sun

Mon

Tue

Wed

Thu

Fri

Sat
Total
–
9
18
25
14
25
29

142

21
18
30
25
31
22
24

171

22
7
15
27
20
16
16

129

20
6
17
5
27
19
16

110

9
8
21
–
–
–
–

–

Dec

Sun

Mon

Tue

Wed

Thu

Fri

Sat
Total
–
–
–
21
11
14
19

103

19
7
19
21
17
25
20

128

13
7
24
29
30
20
28

151

33
11
38
–
–
–
–

–

–
–
–
–
–
–
–

–
 *Unit: person (number of infected people on that day)