***  This article is written with the help of Google Translate… ***
40 (+2 from the day before) new infections confirmed in Tokyo.
◆◆◆ Japan ◆◆◆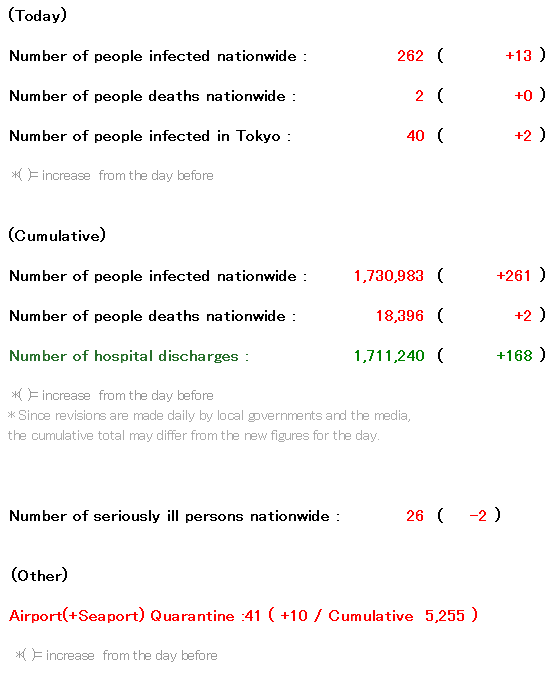 (*All of the above from 2021/12/22 19:00 /  NHK NEWS WEB)
◆◆◆ World ◆◆◆

The number of infected people in Tokyo is increasing more and more and more…
The number is already close to 50 …
Too many at once …
Meanwhile… How about the amount of people in the city in Tokyo…↓
(Around 15:00 on Dec 22, Shibuya Scramble Crossing, Tokyo)
Well, I will summarize
the breakdown of the number of new infections in Tokyo + α …!
And also today, I will summarize some prefectures that have a high number of infected people, not just in the Tokyo area.
If I look at the news site at noon, you will see this breaking news … ↓
↑It was only a matter of time before such a breaking news was issued …
Still, I can't deny the feeling of "Ahhh" …
---
In New York, USA, the number of new infections per day seems to be more than 15,000, and in New York and New Jersey, In New Jersey, 92% of new infections are Omicron strains … 
By the way, is the vaccination rate low? In those areas, "newly vaccinated people get $ 100 (about 10,000 yen)" …!
---
And in the UK, where 90,000 new infections occur a day, it suggests that even stricter regulations may be imposed, 
but it seems that there will still be no new regulations before Christmas …
It would be really nice if it didn't mutate to a more vicious virus from there … (fear)
By the way, the total number of people infected with the Omicron strain in the UK has reached 60,000 (?!) …!
---
In addition, the infection has spread again in Thailand ↓
It seems that two new Omicron strain infections have been confirmed in Tokyo as well.
Moreover, one of them was "a close contact who was on the same plane as the person infected with Omicron strain" … 
After all, the plane or the closed space is not good … (angry) … 
Then, in the morning or on the way home We are also very worried about the crowded trains during the rush hour…
---
By the way, it seems that the cumulative number of close contacts with Omicron strain infection in Japan has exceeded 4000 …

---
Oh, by the way, there was news in Saitama that "Omicron strain first infected person confirmed!", but
it seems that this person entered the isolation accommodation facility immediately after returning to Japan! I want the people on the news site to stop the strange way of reporting, and I hope that the number of such proper people will increase …! Then I wouldn't have to worry so much about entering Japan …!
---
How about oversea? is…
It seems that President Biden of the United States was also recognized as a close contact due to the infection of his subordinates
(* In the United States, vaccinated persons who have completed vaccination do not need to be quarantined even if they are close contacts)

Even in Japan, if you look at the community-spread infections in Osaka that I introduced first, the spread hell may start soon …

Even if Japan knows that it will happen, and even if it has experienced it a million times, it seems that Japan still cannot learn …
---
---
---
↓ In addition, there was such an article! ↓
---
---
---
And here's a trial calculation of how many people in Japan are actually receiving medical treatment.
(If it is exactly as announced)
For those who are undergoing medical treatment nationwide are…
these days it's been declining significantly on most days, but…
---
In London, England, it is often news that 80% of new infections per day are infected with Omicron strain, but in the United States, on average for the past week, 73.2% are already infected with Omicron strain.
So … How about in Japan? I thought about it for a moment, but recently the number of newly infected people in Japan is about 200, while the number of people infected with Omicron strain is a little over 10 … Even in Japan, 5% of the total number of infected people is already Omicron strain.
Even so …
If you look overseas, this dangerous virus that can spread from here at once has only been found in Japan related to returnees, but even so, the Japanese government without countermeasures is really amazing, of course, in a bad way …!
I hope everyone will act properly like the Saitama people introduced above!
Please be careful when you go out!
AcertainFox512
◆Changes in New Coronavirus Infection in Tokyo◆
Oct

Sun

Mon

Tue

Wed

Thu

Fri

Sat
Total
–
–
–
–
–
200
196

1582

161
87
144
149
143
138
82

904

60
49
77
72
62
57
66

443

40
29
36
41
36
26
32

240

19
17
29
36
21
24
23

169

22
–
–
–
–
–
–

–

Now

Sun

Mon

Tue

Wed

Thu

Fri

Sat
Total
–
9
18
25
14
25
29

142

21
18
30
25
31
22
24

171

22
7
15
27
20
16
16

129

20
6
17
5
27
19
16

110

9
8
21
–
–
–
–

–

Dec

Sun

Mon

Tue

Wed

Thu

Fri

Sat
Total
–
–
–
21
11
14
19

103

19
7
19
21
17
25
20

128

13
7
24
29
30
20
28

151

33
11
38
40
–
–
–

–

–
–
–
–
–
–
–

–
 *Unit: person (number of infected people on that day)