***  This article is written with the help of Google Translate… ***
11(-10 from the day before) new infections confirmed in Tokyo.
                
◆◆◆ Japan ◆◆◆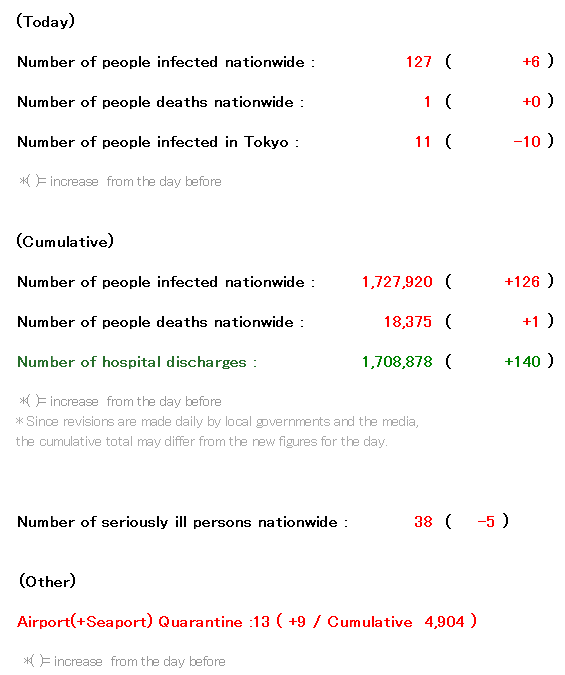 (*All of the above from 2021/12/02 19:00 /  NHK NEWS WEB)
◆◆◆ World ◆◆◆

The number of infected people in Tokyo is currently low, but the Japanese who traveled abroad at such a dangerous time made complaints without accepting the risk, so Viruses are likely to be imported more and more from overseas as the Japanese government is relaxing the measures strengthened by themselves …
There are many foreigners who want to come to Japan but can't, but the Japanese people in this case are really shameful.
Meanwhile… How about the amount of people in the city in Tokyo…↓
(Around 15:00 on Dec 01, Shibuya Scramble Crossing, Tokyo)
Well, I will summarize
the breakdown of the number of new infections in Tokyo + α …!
And also today, I will summarize some prefectures that have a high number of infected people, not just in the Tokyo area.
Well, for the past week or so, the world has been ridiculously noisy …
It seems that the infection of "Omicron strain" was confirmed in the United States as well …, and
(*A person who returned from South Africa on November 22. California. He has mild symptoms but is improving.)

it seems that the spread of infection in South Korea next door does not stop …
(* The number of newly infected people on December 1 was 5123. It was the first time to exceed 5,000 and it was the highest ever).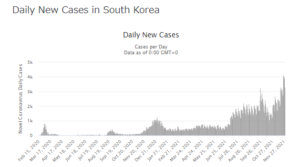 As you all know,
 yesterday, a second infection was confirmed in Japan …
According to media reports, the person entered Japan from Peru on November 27th …
The Japanese government seems to be quicker to respond to this "Omicron stock" than before, and
 the other day they completely restricted the entry of foreigners, but regarding the return of Japanese people, the government say that they have a policy of keeping the facilities designated by the government for 6 days even for Japanese who newly enter from South Korea.
However…↓
The government seems to have made an unusual request to airlines not to accept new reservations for international flights arriving in Japan, so it seems that the return of Japanese people is actually restricted.
I can't say anything because it's the end of the year and I think some of them are planning to return to Japan and spend time with their family …
However, the company that sends employees overseas during this period is also crazy, isn't it?
By the way, the period is one month until the end of December!
---
However, even the close contacts of "Omicron strain" are in this situation ↓
Close contacts of a male diplomat in his thirties who arrived from Namibia in southern Africa on November 28, are said that 30 had entered the accommodation facility for isolattion, but 10 are said, "Choose to wait at home for individual circumstances" …
I can't say anything if I don't understand their "that" situation, but I'm a little worried about the "individual circumstances" that should be prioritized even if they endanger the entire Japanese people …
---
By the way, the world distribution of "Omicron strains" up to this morning looks like this … ↓
An infectious disease expert (Specially Appointed Professor Atsuo Hamada of Tokyo Medical University) says, "There is a possibility of passing through the quarantine and entering the country."
"There is a possibility of passing through the quarantine and entering the country."
There is only the possibility of slipping through!
They should make the possibility zero!
As a nation, I really think that way …
I don't want hell like the 5th wave to come again …

---
---
↓ In addition, there was such an article! ↓
---
---
---
And here's a trial calculation of how many people in Japan are actually receiving medical treatment.
(If it is exactly as announced)
For those who are undergoing medical treatment nationwide are…
these days it's been declining significantly on most days, but…
Oh I have one more "good" information!
The third vaccination of healthcare workers started yesterday, December 1st, nationwide!
So far, the atmosphere is like "Humanity is safe with the third vaccination!", but as Dr. Satoshi Kutsuna, an infectious disease expert, said, I'm the only one who feels like "we may have to be vaccinated every year, like flu shots." ??
Well … it's okay if we can escape from that "hell of spreading infection" … but …!
Please be careful when you go out!
AcertainFox512
◆Changes in New Coronavirus Infection in Tokyo◆
Sep

Sun

Mon

Tue

Wed

Thu

Fri

Sat

Total
–
–
–
3168
3099
2539
2363

19073

1853
968
1629
1834
1675
1242
1273

10474

1067
611
1004
1052
831
782
862

6209

565
302
253
537
531
235
382

2805

299
154
248
267
218
–
–

–

Oct

Sun

Mon

Tue

Wed

Thu

Fri

Sat

Total
–
–
–
–
–
200
196

1582

161
87
144
149
143
138
82

904

60
49
77
72
62
57
66

443

40
29
36
41
36
26
32

240

19
17
29
36
21
24
23

169

22
–
–
–
–
–
–

–

Nov

Sun

Mon

Tue

Wed

Thu

Fri

Sat

Total
–
9
18
25
14
25
29

142

21
18
30
25
31
22
24

171

22
7
15
27
20
16
16

129

20
6
17
5
27
19
16

110

9
8
21
21
11
–
–

–
 *Unit: person (number of infected people on that day)