***  This article is written with the help of Google Translate… ***
5405 ( -129 from the day before) new infections confirmed in Tokyo.
◆◆◆ Japan ◆◆◆
  ■■■ The number of newly infected people in Japan has reached a record high … ■■■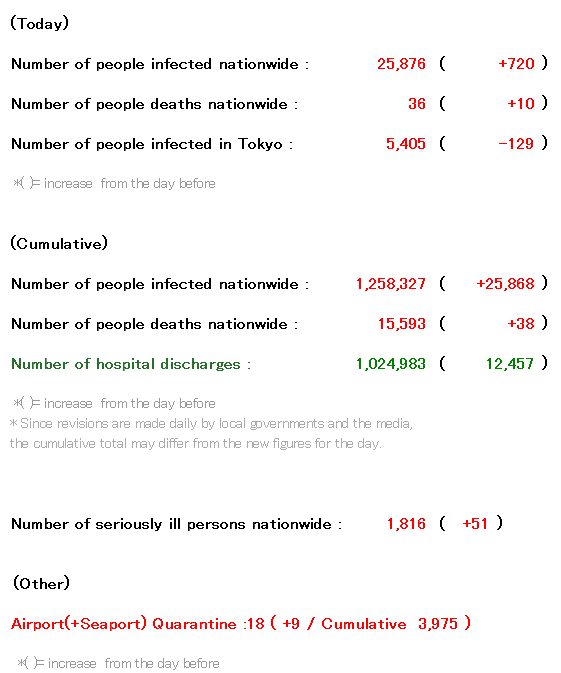 (*All of the above from 2021/08/19 19:00 /  NHK NEWS WEB)
◆◆◆ World ◆◆◆

The number of infected people in Tokyo goes back and forth between 5,000 and 5,500 …
It's the week after the holidays, so it should normally increase explosively, but the medical institutions were open during the holidays, so it may not have increased that much…
Meanwhile… How about the amount of people in the city in Tokyo…↓
(Around 15:00 on Aug 20, Shibuya Scramble Crossing, Tokyo)
Well, I will summarize
the breakdown of the number of new infections in Tokyo + α …!
And also today, I will summarize some prefectures that have a high number of infected people, not just in the Tokyo area.
---
While many people in Japan have never been vaccinated, the third vaccination is essential in the world!
In the United States, it seems that people who have been vaccinated for 8 months since the second vaccination will start the third vaccination from September 20th next month.
It seems that Japan is also preparing for the third vaccination!
The fastest vaccinated person in Japan was vaccinated in February, so it's about time …!
According to the Minister of State for Regulatory Reform, Kono, "We are waiting for the Ministry of Health, Labor and Welfare to decide whether it is necessary, but we are ready to respond!"
By the way, the specific numbers have finally been revealed, but
it seems that Japan has agreed with Pfizer to conclude a 120 million vaccine supply contract next year!
It's the amounts for 60 million people!
---
There was a lot of news about the effects of such "vaccines" today!
In India, thanks to the vaccination rate of 46%, it seems that the number of infected people has finally decreased!
(* 1st time = 46% of adults / 2nd time = 13%)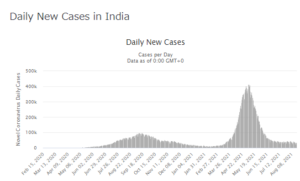 ↑It's really decreasing! !!
…But it seems that there are still about 30,000 people a day …
…… Oops … Japan was about the same … (about 25,000 people)
Also, according to the results of the Israeli survey, which started the third vaccination early, the effect of preventing the onset of COVID-19 by the third vaccination is 86%!
↑The effect is too great …

However, the effect was diminished by that much …
In Japan, out of 317 people who were infected after completing two vaccinations between March 1st and August 15th in Osaka, the number of serious illnesses and deaths was 0!
There are various opinions about the "effect of preventing infection", but after all the "effect of preventing aggravation and death" seems to be enormous!
(*By the way, there are some people all over the country, including Tokyo, who have died despite having completed two vaccinations …)
By the way, there is also such news about Japan …
Regarding the health hazard that seems to be a side reaction after vaccination, the Ministry of Health, Labor and Welfare said that "a causal relationship with vaccination cannot be denied" and approved medical bills from 29 people!
Apparently everyone had symptoms like "anaphylaxis" …

And,
In Tokyo, Tokyo metropolitan Government will distribute two-thirds of "vaccines for large-scale vaccination" to each municipality that lacks vaccines!
… It 's natural (dry laugh)
It is natural that municipal vaccination is prioritized over "large-scale vaccination" and "workplace vaccination"!
Still, Tokyo seems to have been reluctant at first …

y the way, in Suginami Ward, it seems that it is said that the vaccination will be completed at the end of the year …
---
And about the domestic infection situation …
In Chiba, a pregnant woman who was undergoing medical treatment at home after infection could not be hospitalized and gave birth at home, and her baby died …

According to the "only surveyed" by the Ministry of Health, Labor and Welfare, it is reported that there are seven people nationwide who died during home medical treatment …
(Actually, there should be more, there is obviously more news …)

Nevertheless, Tokyo is…
… trying to accommodate more critically ill patients in hospitals, they are planning to move people who have recovered "a little" from the severity to accommodation facilities …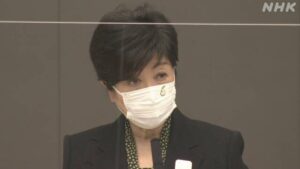 ↑governor koike
(YOU MUST REDUCE THE NUMBER OF INFECTED PEOPLE NOW! (angry))
On Miyakojima in Okinawa, the number of newly infected people per week is 444.85 per 100,000, which is the worst in the world …
(it is said that it is because the number of visitors increased by 57% last year, and some stores offer alcoholic beverages.)

Even so, restaurants did not stop serving alcohol or shorten business hours …
(In Tokyo, it seems that they asked for a fine again from the 6 violating stores … it's only 200,000 yen …)

Meanwhile, the Fuji Rock Festival has been decided to be held before we knew it …
It's already a mess …

---
and…
Yeah, are you full of information, right? (dry laugh)
…sorry!
I'm also crying putting it together with tearing my eyes! (LOL)
But no matter how much important information or information I have to introduce, I have to tell you …!
There was a lot of information today …!
Not only me, but many people are careful about infection control, so it's good that everyone's efforts are rewarded, not just such silly news!

---
And this article↓
How long time the materials such as paper, cloth, plastic, etc. need to eliminating the risk when coronavirus is attached, and how effective disinfection is.
If you are interested, please take a look!
Also, for "Does the vaccine work for mutant strains?", See this table ↓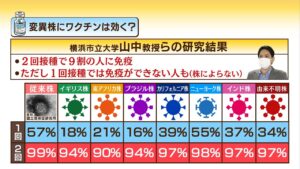 イギリス株やインド株にもワクチンは"90%以上有効"  – Youtube(MBS news)
ファイザー製ワクチン ブラジル株に効果期待 東大らのグループ – NHK
↓
Is the vaccine effective against mutant strains? (*unit : %)
Number of vaccinations
Conventional 
British
South african
Brazilian
California 
NY
Indian 
Unknown 
Once
57
18
21
16
39
55
37
34
Twice
99
94
90
94
97
98
97
97
---
And here's a trial calculation of how many people in Japan are actually receiving medical treatment.
(If it is exactly as announced)
For those who are undergoing medical treatment nationwide are…
these days it's been declining significantly on most days, but…
According to Mr. Nishimura, the minister in charge of economic revitalization, the current rapid spread of infection is "expected".
He said in the Diet that "I'm assuming various situations, but I'm also assuming these situations," but … "Sleep-talking should be said while sleeping!" (Angry) , right? 
On the other hand, Professor Omi tells such a government,
"If you say that you have no choice and no countermeasures anymore, it will get worse at that moment, so do something more."
Mr. Omi … We have the same idea! We're sorry but do your best …!
Please be careful when you go out!
AcertainFox512
◆Changes in New Coronavirus Infection in Tokyo◆
Jun

Sun

Mon

Tue

Wed

Thu

Fri

Sat

Total

–

–
471
487
508
472
436

3082

351
235
369
440
439
435
467

2736

304
209
337
501
452
453
388

2644

376
236
435
619
570
562
534

3332

386
317
476
714
–
–
–

3942

Jul

Sun

Mon

Tue

Wed

Thu

Fri

Sat

Total

–

–
–
–
673
660
716

3942

518
342
593
920
896
822
950

5041

614
502
830
1149
1308
1271
1410

7084

1008
707
1387
1832
1979
1359
1128

9400

1763
1429
2848
3177
3865
3300
4058

20440

Aug

Sun

Mon

Tue

Wed

Thu

Fri

Sat

Total
3058
2195
3709
4166
5042
4515
4566

27251

4066
2884
2612
4200
4989
5773
5094

29618

4295
2962
4377
5386
5534
5405
–

–

–
–
–
–
–
–
–

–

–
–
–
–
–
–
–

–
 *Unit: person (number of infected people on that day)